Mornings in the Sanctuary
Come away to a secret place and rest awhile
"Do this in remembrance of me." — 1 Corinthians 11:24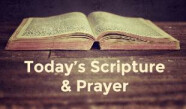 The early church enjoyed frequent times of breaking bread together. In fact, it's one of the things to which it's said the early church was devoted. Celebrating the Eucharist at Countryside isn't a formal affair and it happens most frequently outside of our main services. The Lord's Table is an intrinsic expression of our worshiping community, our prayer and worship to the Lord, and our intimacy with the Lord. All believers are welcome to join us in Daybreak Morning Communion services at Countryside, or during youth gatherings, some prayer services, a Jesus Feast, our small group home fellowships and other times that it is available.

Worship is essential to being formed into Christ's likeness. Come worship through contemplative hymns or quiet solitude, Scripture, prayer and meditation. These are opportunities to focus our attention on God, and faithfully listen.
Many in the body have also found the practice of set-prayers and the daily reading of Scripture to be meaningful expressions of their prayer and devotional lives. Since the earliest centuries, based initially on the pattern and traditions of the first early Christians who were all Jews, fixed-hour prayers have been an integral pattern for prayer for believers. You can locate the web-version of The Divine Hours (one such prayer resource) here, or a more contemporary expression of prayers, Common Prayer, here. These books, and a host of others on prayer and other topics, are also available in our bookstore.
Our daily Scripture readings are from common sources used by most Christians throughout the world. There are selections from the Psalms for both morning and evening, and then daily readings from the Old Testament, the New Testament and from the Gospels. We hope the regular reminder will be of encouragement to us all to join the congregation in reading the Scriptures and praying, and both are meant to go together with our daily prayer and communion service, mornings at Countryside.


Daily:
Sunday Morning
Prayer and Communion in the Orange Room, 8:30 to 9:30
Monday, Tuesday, Wednesday, Thursday, Friday Morning
Prayer and Communion in the Sanctuary, 6:30 to 7:30
Saturday Morning
Prayer and Communion in the Sanctuary, 7:30 to 8:30